About Us
Prison Fellowship India is a Registered Charitable Society involved in Correction, Reconciliation, Welfare and Rehabilitation of Prisoners, Ex-prisoners and their families.
Our Mission:
To exhort and serve in prisons and in the community in its ministry to prisoners, ex-prisoners, victims and their families; and in its advancement of Moral, Psychological, Ethical and Legal standards.
Our Vision:
To be a reconciling community of restoration for all those involved in and affected by crime, thereby proclaiming and demonstrating the transformation and progress of the released incarcirated, towards his family and the society at large.
PRISON FELLOWSHIP INDIA – A PROFILE:
Was started in 1973, by Dr. Kunjumon Chacko.  Registered in 1983, in Kerala under "THE TRAVANCORE-COCHIN LITERACY SCIENTIFIC & CHARITABLE SOCIETIES REGISTRATION ACT XII OF 1955" & now have branches in Andhra Pradesh, Tamil Nadu, Delhi, Bombay, Pondicherry & Karnataka since Oct 1994.  PFI is a Non-Government Voluntary Organization involved in correction, welfare & rehabilitation of prisoners, ex-prisoners & their families.  Also provides them an opportunity to repent of their misdeeds & turn to a morally & socially acceptable lifestyle & to live as responsible citizens. This is comprised of a National Board at the National Office.
PRISON FELLOWSHIP BENGALURU:
Based at Dodda Gubbi in Bangalore is a Group of Prison Fellowship India.  This unit looks after all the programs in the State of Karnataka.  It functions under the Committee comprising of 7 members The zonal committee is responsible for planning, resource mobilization & implementation of programs in Karnataka under the direction of National Board Members.
PFI-Bengaluru in Karnataka was initiated in the month of Oct. 1994 by this couple – Mrs. Teena Reny and Reny George.  Both of them have vast experience in working with prisoners, ex-prisoners, crime victims & their families in the area of welfare, rehabilitation & reconciliation & the much needed child care.
For State-wise Auditing: PFB has been registered under 'Charitable Trust Act of Govt. of Karnataka: 79th Prakarana & 110th Niyama at The Sub-Registrar office with the Receipt No: 6138 @ Banaswadi BNS-4-00227 2012-2013 Book 4 Registration. PFB has been granted: Certificate under 12A R/w Section 12AA(1)(b)(1) of the Income Tax Act, 1961. Sighting: essential clauses in following matters:
AMEMDMENT: No amendments to the Trust Deed shall be made which may prove to be repugnant to the provisions of Section 2(5), 11, 12 & 13 of the IT Act of 1961 as amended from time to time. Further no amendment shall be carried out without the prior approval of the Commissioner of Income Tax.
DISSOLUTION: In the event of dissolution or wind up of the Trust the assets remaining as on date of dissolution shall under no circumstances be distributed among the members of the Board, but the same shall be transferred to another Registered Charitable Trust, Society, Association or Institution who objects are similar to those of this Trust & which comes under the provisions of section 2(5), 11, 12 & 13 of the I.T. Act of 1961 as amended from time to time.
INCOME: The funds & income of the Trust shall be solely utilized towards the achievement of the objects & no portion of it shall be utilized for payment to members of the Board by way of project, interest, divided, ect.
The Trust formed shall be irrevocable
The benefits of the Trust shall be open to all irrespective of caste, creed or religion.
Additional Director General of Police - Kerala State Mr. Siby Mathews IPS (the officer who arrested ) with
Reny George after his reformation (below right)
| | This page is dedicated to my friends Danny, Guna, Chen who bore the brunt of the imprisonment along with me. "Hi, I still love you guys. You all will always be in my heart. I pray for you daily. | |
| --- | --- | --- |
Danny, Guna, Reny George and Chen at the time of arrest in 1980
Board Members

Mrs. Teena Reny
Secretary / Managing Trustee

Mr. Prem Sunder Karl
President / Trustee

Mr. Thomas Mathew
Board Chairman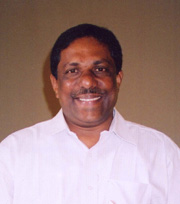 Mr. Reny George
Executive Director
Mrs. Gretta Andrews
Treasurer

Mrs. Viji Panchikal
Board Member

Mrs. Selvi Prabhakar
Board Member