PIZZA CORNER CITIZEN

OF THE YEAR AWARD 1998

Ex-con atones by caring for prisoners' kids
Dr. Kiran Bedi IPS 'Magsaysay Laureate' honours Reny George with the Pizza Corner Citizen of the Year Award 1998.
Bangalore, March 11: "Are you finally breaking free, Reny?" was Dr Kiran Bedi's laughing question to Reny George, who was nominated the Citizen of the Year by Pizza Corner Pvt Ltd, a company which owns a chain of pizza restaurants around the country.The award is presented annually to ordinary citizens who make extraordinary contribution to society. Last year's award went to Chennai-based Dr Suniti Solomon for her selfless work on building AIDS awareness and for her pioneering work with those afflicted by the HIV virus.

Reny George, an ex-convict, runs the Precious Children's Home, which looks after prisoners' children, Bedi, in an emotion-charged speech, appreciated the exemplary work that George has undertaken.
"Reny is serving time of a different kind - to change peoples' perceptions of a prisoner's child Through the work that he does, he repents for his crime and seeks pardon silently," she said.

In his acceptance speech. George admitted that in the eyes of society, he would remain 'an ex-convict and urged those who were not thus tainted to try and make a difference to the lives of "these children who have been through hell,"

"I haven't done anything to deserve this award except to be a caring citizen," he added. The evening ended with some of the children performing a tableau aptly titled "We shall overcome some day."

Bedi, former IG in charge of Tihar Jail, well-known" for her radical prison reforms, reiterated that the only way to reduce crime was "to use punishment time to reform prisoners. Prisons, if left alone, are perfect houses of contamination of the body, mind and soul. The key to reform is education."

At the end of the evening, one gentleman announced his intention to adopt one of the children from the Precious Children's Home.

PHOTOS: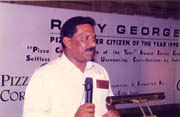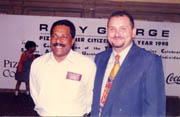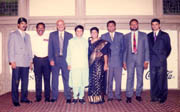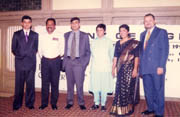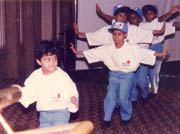 Rhema leading the dance