REAL HEROES OF INDIA

AWARD 2008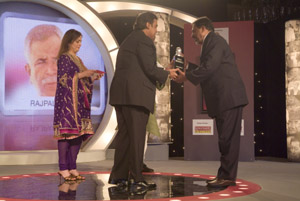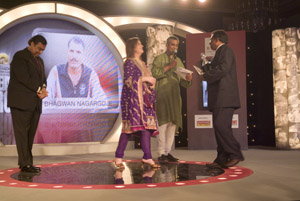 Mr. Mukesh Ambani presents the Real Heroes of Award 2008 to Mr. Reny George. Mrs. Nita Ambani
presents the Award cheque & CNN-IBN Chief Editor Mr. Rajdeep Sardesai anchoring the program.
Reny George (Bengaluru south)
Reny is an ex-convict who runs a school/home for children of prisoners/ crime victims calling them children at Risk. Having gone through the stigma of incarceration, he wanted to make sure He wanted to make sure that such  children did not suffer for their sins of their parents.
Real Heroes - The unsung heroes of independent India.

Real Heroes is a celebration of the triumph of human spirit. It's about ordinary people who have done extraordinary things in India, people who have gone beyond the realm of personal well-being and worked for the well-being of others. As we celebrate more than 60 years of independence, the series 'Real Heroes' is a celebration of these unsung heroes of our nation. They are the Real Heroes of independent India.

Real Heroes is about drawing attention to these selfless people, who have made our society a better place to live in. Through awareness created by this initiative, we hope to make other good-hearted souls come forward to contribute.

Real Heroes is about celebrating the heroics of these extraordinary people by recognizing and acknowledging them and felicitating them on national television by giving them awards. Real Heroes is about contributing to the causes of the silent warriors of change, by giving them cash prizes along with the awards. Real Heroes will be an annual celebration of the good deeds of good Indians.

PHOTOS: